One of the powerful key memes from Gerd Leonhard's new book  Technology vs Humanity are The Megashifts.
Because of exponential technological change and how its forces are combining with each other, these 10+ trends are absolutely essential to understand as they may create huge new opportunities – or challenge existing business models, social contracts or humanity at large:
Digitization (everything that can will become digital)
Mobilisation (computing is no longer at the desk – everything is mobile)
Screenification (all that can… will be screenified)
Disintermediation: many traditional middlemen are suffering because technology makes it possible to 'go direct'. Examples include record labels, publishers, advertising (brands can now tell their stories without TV or print) etc
Datafication (what used to be between-people ie not recorded or mediated, is now being turned into data, e.g. electronic medical records vs talking to the doctor)
Intelligization i.e. everything that used to be dumb is now becoming connected and intelligent, such as gas pipelines, farms, cars, shipping containers etc
Automation (huge factor in regards to technological unemployment)
Virtualisation (no longer a physical thing in a room but an 'instance' in the cloud e.g. software defined networking instead of local routers, virtual friends such as Hello Barbie etc)
Augmentation: humans can increasingly use technology to augment themselves i.e. to be omniscient, omnipresent, omnipotent – kind of super-human. Augmentation examples include my smart watch, smart Goggles, Augmented and Virtual Reality, intelligent digital assistant and sooner or later brain-computer interfaces BCIs and implants
Anticipation: software can now predict our behaviour, even crimes
Robotization: even white-collar jobs will soon be done by robots
De-humanization: taking humans out of the equation by cutting a task to its bare bones and giving it to machines 
Re-humanization: realising that your customers don't buy technology – they buy relationships! Thus, brand value is defined by being more human, not less!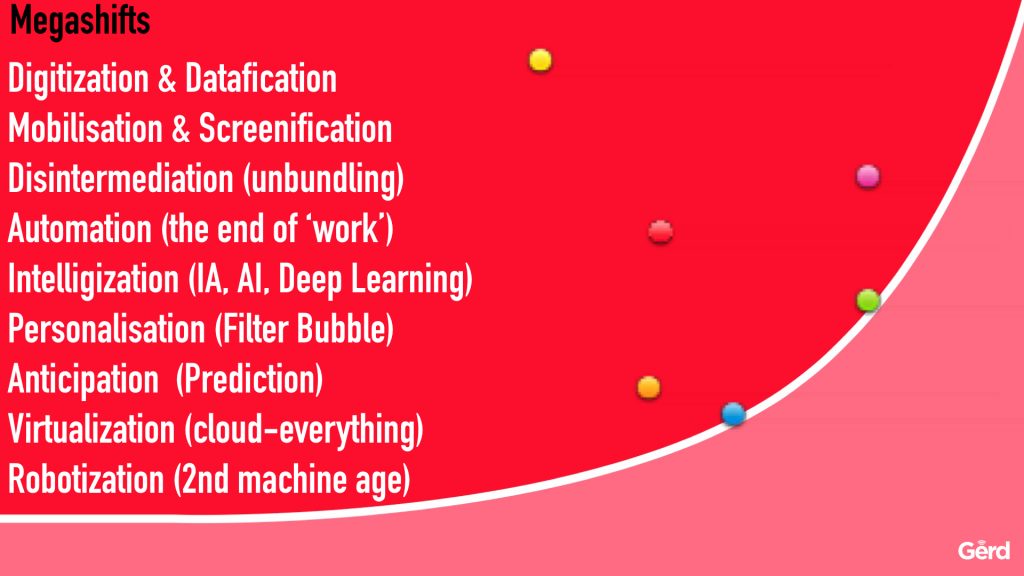 Watch Gerd's first episode on Technology vs Humanity of his new video series entitled 'conversations with Gerd' see www.conversationswithgerd.com. These are short films with interviews on key topics such as technology versus humanity, digital transformation, the future of the internet, exponential change, artificial intelligence, the future of work and much more.

Produced and directed by Jean Francois Cardella, TFA Studios see https://www.futuristgerd.com/film-studio/

Tags: